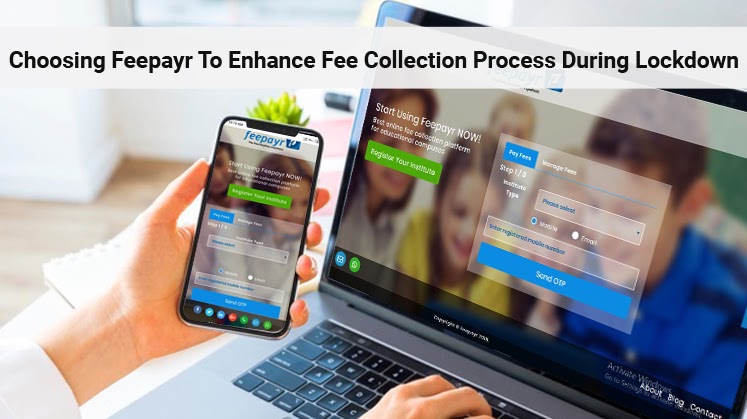 "When the going gets tough, put one foot in front of the other and just keep going. Don't give up." Roy T. Bennett, The Light in the Heart
A virus named Covid-19 has attacked & captured the lives of people across the whole world. No one knows when the pandemic attack is going to end. Not even the doctors of the World Health Organization (WHO)!
While edTech innovation such as virtual learning management system software has shown a ray of hope to students who want to continue their education, the real question remains how educational institutions & parents will manage their fees? Without swift flow of money from parents to schools, educators won't be able to afford e-learning software. Paying & collecting children school fees in the lockdown is a huge concern of parents & school administrators. They are worried & continuously searching answers for-
Is there any efficient education ERP system that can help the stakeholders manage school fees online?
And, honestly, is the online school fees payment reliable enough to serve the average parent community who is new to the world of edTech?
Yes, in this blog, I am going to address your online school fees payment system related concerns. I'd like to shed light on Feepayr, safe and secure software that will enable faster e-transactions.
Here's why choosing Feepayr for the fee collection process during lockdown is a win-win for stakeholders…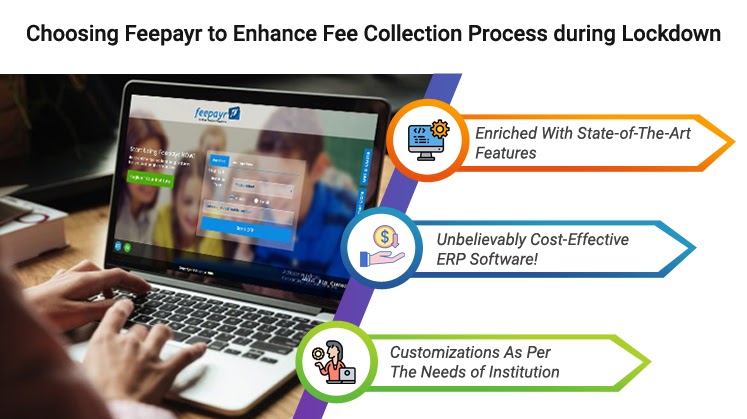 1. Enriched with State-of-the-Art Features
Feepayr is a revolutionary school fees management software that focuses on state-of-the-art features to make your online payment & collection a super-smooth process.Right from secure online web portal with SSL certificate, best payment gateway to a user-friendly mobile app, it has got everything that won't require sweating in the sun & the virus-laden environment!
You may say that there are so many school management systems that offer same functionality. - Why Feepayr is the best solution for online fee payment?
Remember that no edTech tool, no matter how excellent, is completely unique.
The features would be somewhat the same. The thing that creates a difference is the accuracy, speed, and safety provided by the ERP software portal.
2. Unbelievably Cost-effective ERP Software!
Nothing "GOOD" comes free of cost.
Feepayr tops the list of "good" fee payment & collection systems!
Educators often say that there are thousands of cashless payment platforms that offer free of cost features. I agree there are such education ERP products out there.
But, are they trustworthy?
I can bet - they aren't!
Online fee transactions are risky. Blindly falling for any random e-payment platform for school can cost you the reputation of your institution. Speaking of Feepayr, it is quite cost-effective if you weigh its features on the other side.You can read the features of Feepayr in detail here & decide by yourself.
3. Customizations as per the Needs of Institution
Digital banking & online payments have emerged as a billion dollar industry
If you look at the track record of online payment system software -
Feepayr, no complaint of online fraud while managing e-transactions has been filed till date.
Possibly why, the Feepayr team attributes a major portion of its success to the members of the research & development section.
During the initial collaboration with clients, team Feepayr clearly discuss what the educators are looking for, they make the entire journey insanely simple by incorporating the customizations that would gel up with the working procedure of school.
They leave no stone unturned in sparking a long-lasting relationship of stakeholders by ensuring 100% safe online payments.
Conclusion
Implementing any school fee software is easy. Choosing the right e-payment platform like Feepayr that will help in successful e-transactions every single time requires some initial research and a will to collaborate with the team! That's it!
And the rewards?
Rewards are countless!
Therefore, I encourage you to take the next step and get in touch with ERP experts of Feepayr instantly.
Everything that you need is just a call away!
See you soon. Until then please stay safe!