Less Cash, Easy Transactions
December 07, 2016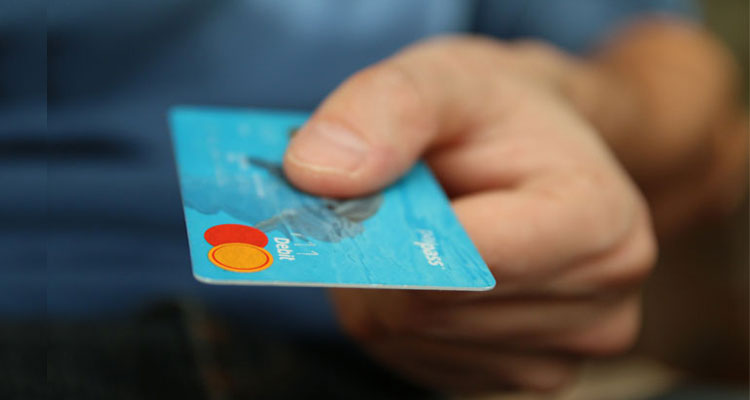 The event of demonetization brought unwelcome apprehensions in the masses of India. The country witnessed changes in the financial infrastructure too soon. Indians abruptly and reluctantly felt urged to make lifestyle changes. As a nation where we move towards a digital, cashless economy we must strive towards promoting the use of technology and its services.
An example I stumbled upon recently was of a village, namely Akodara. Akodara village in Sabarkantha district is home to some 1,200 people. Quoting from The Hindu Newspaper's Article, this village uses cashless transactions for everyday needs and occupation.
"The villager's most important transactions — selling agri-produce at the local mandi or selling milk at the co-operative society — have been digitised and made cashless. The system has made them automatically less susceptible to corruption and fraud. Also, their accounts are linked to their Aadhar cards, which means that government benefits are now transferred directly into their savings accounts. For the widows of Akodara, who had to earlier spend Rs. 70 to travel to the district headquarters to receive their monthly pension of Rs. 800, this direct transfer and easy access to their accounts makes for real and significant savings."
This village epitomizes what a cashless economy can do for varied infrastructures. They have used technology to improve their teaching aids in schools and colleges. Another excerpt from the same article, in the area of Education.
"Earlier, teaching used to be between just the teacher and the student. Now we have a digital aid," says Pranav Upadhyay, 32, high-school teacher in Akodara, before beginning his lecture on nanotechnology for Class 10 students. "Earlier when I used to talk about the universe to the students, it was just talk. Now they see it animated on the screen and it gets them interested and more engaged." The digital aid that Mr. Upadhyay is referring to is an audio-visual device that integrates a projector and a computer. This brings to life lessons in science, chiefly through animation. In primary school, children use electronic tablets gifted by ICICI to learn Gujarati. Also, across all schools, a digital attendance system is being implemented that will inform parents, via SMS, whether their children have shown up at school or not. Apart from its practicality, this is also an important safety initiative."
The concept of cashless transactions finds its space only when the roots of social and societal change likewise schools and colleges, opt for these solutions.
The Indian Express covers the campaign VISAKA run by HRD Minister Prakash Javadekar; encourages and urges Institutions to make fee payments cashless.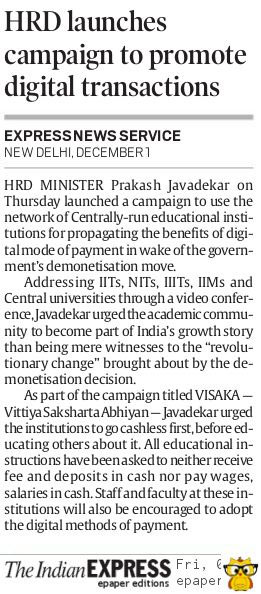 Thus we need cashless online transactions to increase flexibility in how we use money, day to day. Feepayr, is a booming franchise of MasterSoft ERP Solutions. Its a newbie platform which provides the management of any institute, school or college; track, schedule, create and manage fees in an efficient manner. This platform in equal solidarity helps parents and students to make online payments of fees either using Computers or Smartphones.